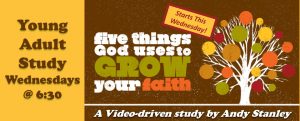 Your faith in God matters to God. In fact, God is most honored through your living, active, death-defying, out-of-the-box faith. That being the case, he's committed to growing it. Big. Imagine how different your outlook on life would be if you had absolute confidence that God was with you? Imagine how differently you would respond to difficulties, temptations, and even good things if you knew with certainty that God was in all of it and was planning to leverage it for good. In other words, imagine what it would be like to have PERFECT faith. In Five Things God Uses to Grow Your Faith, Andy Stanley builds a biblical case for – you guessed it – five things God uses to grow BIG faith.
Come be a part of this great study!
Watch a short video promo by clicking here. Be patient, as the video actually starts about 7 seconds in.